Media partner


---
---
Clarissa Rowe
UPDATED, April 27: Save Our Wetlands, the coalition that opposes the development plan for the 17-acre Mugar site along Route 2 in East Arlington, is calling for volunteers to hold signs on Lake Street on the evening of Monday, April 27, and the morning of Wednesday, April 29.
The call follows an organizational meeting April 15 at 137 Herbert Road to form a steering committee and plan a series of educational forums.
Former Selectman Clarissa Rowe is helping the coalition. Read the group's announcement below: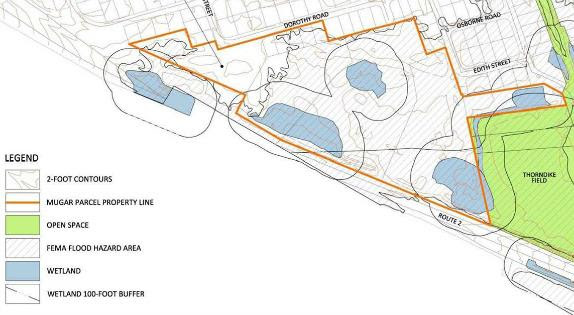 Thank you for doing your part to save the Mugar Wetlands
The time has come to ask for your help.
To spread word about this threat, we will be conducting "stand-outs" on Lake Street the evening of Monday, April 27 and the morning of Wednesday, April 29.
We need to have at least 20 volunteers for this to be effective.
What's a stand-out? It's just another name for "sign-holding," so very simple to do. We'll stand in small groups with signs which we will provide, letting motorists know about the effort to develop the Mugar Wetlands.
On Monday, April 27th, we will hold signs in the evening, from 5:30 to 6:30 p.m.
On Wednesday, April 29th, we will hold signs in the morning, from 7:30 to 8:30 a.m.
On both days We will meet at the corner of Lake and Brooks Ave near Hardy Elementary School, where we'll hand out signs. We can split up to cover ground on Mass Ave and the bike path as well.
This effort will go a long way toward alerting our neighbors and commuters on Lake Street and Massachusetts Avenue to the impact of building 219 housing units in the Mugar Wetlands.
We will be holding signs that read "Mugar Development = 300 more cars on Lake St" and "Mugar Development = more flooding on Rt. 2."
So while the work is very simple, it's impact is exceptionally important.
Can you help? Click here to sign up.
Make your voice heard and join us!
Stay tuned for more updates.
If you haven't already visited our Facebook page, you can do that by following this link: https://www.facebook.com/saveourwetlands
Be sure and visit our webpage too, and add your name to the list of people that oppose the development of the Mugar Wetlands! https://saveourwetlands.wordpress.com/
To receive messages directly from the coalition, follow this link and sign up: http://eepurl.com/biNV2T
Save Our Wetlands, 137 Herbert Road, Arlington, MA 02474
---
Coalition to Save Mugar Wetlands: WordPress | Facebook
---
This annoncement was published Thursday, April 23, 2015, and updated April 27, to add a link.
Your Businesses
This week the Arlington Chamber of Commerce plans to present "Finance Essentials for Small…
"Giddy With Color" by artist Eve Bigaj, at left, is set to open at 7 p.m. Thursday, Oct. 6, at the…
Your People
Watch 'Pony Boys' on Monday, Oct. 3 (changed from Sept. 27), a New York Times' Op-Doc Tony and Jeff Whittemore head for Montreal. / 1967 family photo UPDATED Sept. 26: Spy Pond Productions of Arlington has announced that the film directed by Eric Stange has been acquired by The New York Times…
Sue and Jeff Thompson face trials, keep smiling. UPDATED Oct. 1: On July 19 it was one year since Jeff Thompson was diagnosed with ALS, and during that time his condition has worsened. But he and his wife, Sue, have learned some important lessons: Be prepared before the next thing happens so you're…
Housing Authority
Report released six months after records request. UPDATED July 28: The Chestnut Manor fire…
Hauser electrical panel. / Melanie Gilbert photo 'We're grateful to the CPA and Town Meeting.'--…
FACEBOOK BOX: To see all images, click the PHOTOS link just below