Media partner


UPDATED June 6: The Arlington Historical Society will present its final program for 2021-22 at 7:30 p.m. Tuesday, June 7, at 7 Jason St.
Postponed from May 24 because of Covid-19 protocols is the Louise Ruma Ivers Memorial Lecture, "Constants and Changes in Sharing Arlington History: A 25-year Retrospective Conveyed in Images" by Richard A. Duffy.
Programs are simulcast on YouTube >> To request a link, email the society at This email address is being protected from spambots. You need JavaScript enabled to view it..
Duffy wrote: "In my 25-plus years showcasing a vast array of topics on Arlington's history, the ways of discovery and depth of resources have changed more than in any previous quarter-century.
"We've been handed golden keys to our past. How do we use them to properly unlock its secrets?
"My story unfolds using familiar and never-before-shown images of Arlington."
Please note that, because of the interactive design of this program, it will be presented in-person only.
Already held:
Tuesday, April 26
GEORGE Y. WELLINGTON REMEMBERS
Portrayed by A. Michael Ruderman
"I helped found the Arlington Historical Society and was its second president. I also was a surveyor for the Lexington & West Cambridge Rail Road and continued railroading in Cincinnati. I later managed the Arlington horse street-railway and made my financial success in the insurance business.
George Y. Wellington, at his theodolite with his surveyor's field book tucked beneath his arm. Circa 1850 studio daguerreotype.
"This will be my first talk before the Society in over 100 years, where I shall reminisce about some of the changes Arlington has undergone during my lifetime."
This exciting program in the first person is set for the Masonic Temple, 19 Academy St., at 7:30 p.m. on Tuesday, April 26.
It is free for members and $5 for nonmembers. The program will be simulcast live on our YouTube Channel – visit our website for a link arlingtonhistorical.org
Arlington resident and Historical Society member Michael Ruderman presents the dynamic founder of the historical society.
Ruderman adds "Wellington's extensive diary of the year 1900, 'in my 74th year,' records what he hopes will be 'preserved and read in Jan'y AD 2000.' That, and his frequent presentations to the historical society which he helped establish, portray a man with a keen sense of living between changing historical eras.
"There are pieces missing from this self-portrait, details of his varied enterprises that made him one of Arlington's most successful businessmen. I hope to write those elements back into Wellington's narrative of his life and times."
Ruderman is a longtime Arlington resident and, like Wellington, he has a passion for Arlington's history. His first presentation to the society was more than two decades on "Why Old Houses Matter."
He delivered the last lecture before Covid suspended the society's live programs, a multimedia presentation on the Civil War Soldiers and Sailors monument titled "What They Fought For." Ruderman has expanded this last lecture and will offer it as a class in historiography through Arlington Community Education this June. He has also taught classes on understanding and getting involved in local government.
Tuesday, March 29, 7:30 p.m.
"Not Just for Churches," a program about pipe organs
In the era before recorded music, the pipe organ allowed a single musician to entertain the masses in many types of secular venues. Enjoy a fun and nostalgic look at this era of music-making, including a demonstration of the fine organ of the 1923 Masonic Temple of today;s Mystic Valley Lodge.
The program will be held at the Masonic Temple, 19 Academy St., at 7:30 p.m. on Tuesday, March 29. It is free for members and $5 for nonmembers.
The program will be simulcast live on our YouTube Channel.

This program is co-presented by Organ Consultant Jonathan Ambrosini and Organist Eric Helmuth. Both presenters express their enthusiasm for working with the specific instrument found in the historic building:
"The Masonic Hall is the best kind of time capsule, a gold mine of beautiful and lovingly-preserved interiors and furniture. Our introduction to the Hall's pipe organ will demonstrate how the instrument works, what it does, and why pipe organs were commonplace before recordings and radio became widespread." Says Ambrosini.

Helmuth adds that the Masonic Hall "is a true gem in Arlington with a unique and rich history, but few people know it contains a historic, working pipe organ. I'm looking forward to demonstrating the instrument for Jonathan's expert presentation."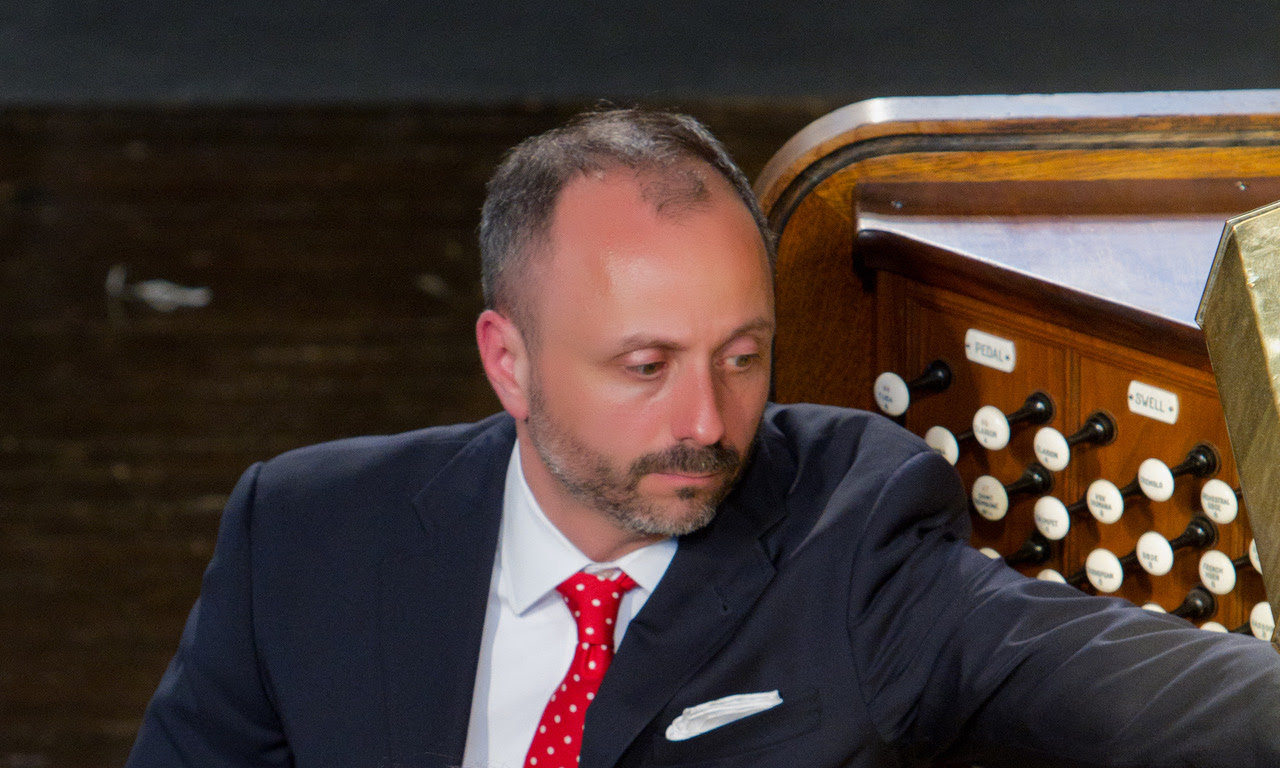 Jonathan AmbrosiniOrgan technician Jonathan Ambrosino cares for some of Boston's prominent pipe organs, including those of Trinity and Old South Church in Copley Square. A Newton native, he works nationally as a consultant to pipe organ projects, including those at Harvard University and Trinity Church, Wall Street.


Eric HelmuthEric Helmuth is a member of Arlington's elected Select Board and a part-time organist at All Saints Episcopal Church in Belmont. He holds a B.A. in piano and organ performance and maintains a part-time music career alongside his full time work in nonprofit technology and communications.

The Masonic Temple is a two-story building built in 1923 as a Masonic facility. It continues to be owned and operated by the Arlington Masonic Temple Association.
The lodge hall was designed for meetings but is also used as a venue for events. The Historical Society has held lectures there for over the past decade. Images courtesy Arlington Masonic Temple.


Sunday, Jan. 30, at 2 p.m.: OUR SAMPLER PRESERVATION PROJECT
Sara Lundberg, Museum Director
Program held in Smith Museum at Jason Russell House
Needlework samplers are captivating artifacts of historic adolescence, critical for practical purposes to demonstrate key skills for managing a home. They also were forms of artistic expression and outward manifestations of gentility that could represent part of a family's pursuit of upward mobility.
*This project was made possible by a Partnership Grant from Freedom's Way Heritage Area and from the Arlington Cultural Council.
Tuesday, Feb. 22
PLYMOUTH COLONY ARCHEOLOGY: NEW INSIGHTS ON COLONIAL & INDIGENEOUS COMMUNITIES
Christa Beranek, Archeologist
Discover the first intact deposits from inside the palisaded settlement in downtown Plymouth (a house site dating ca. 1620-1660) and a Wampanoag occupation area contemporary with the early town, revealing social and cultural interactions between the English and Wampanoag in the 17th century.
'Bullet-Riddled Artifacts: Curated Objects of Memory' by Joel Bohy on
Tuesday, Nov. 30, at
7:30 p.m.
Technicians from Feldman Surveyors conducted a laser scan of the Jason Russell House and grounds May 14 and 15, 2020.
By bringing together scholars and technologists in conflict archaeology, forensics, and material culture, Joel Bohy led a multiyear study of battle damage at historic houses. The Jason Russell House was at its heart, revealing a surprising amount of new information.
Joel Bohy (moree below) will present an illustrated lecture for the Arlington Historical Society on Tuesday, Nov. 30, at 7:30 p.m. at the Masonic Temple, 19 Academy St.
It is free for members and $5 for nonmembers. This program will be simulcast live to members -- visit arlingtonhistorical.org/contribute/membership
He went on to become an expert in militaria, working on numerous conflict archaeology projects such as the "Parker's Revenge" site at Minute Man National Historical Park. It was here he met forensic archeologist Dr. Douglas D. Scott, who pioneered new archaeological techniques at the Little Big Horn battlefield in the 1980s.
Bohy's team used this practice of combining tools of forensics with experimental archaeology for projects such as a live fire ballistics studies of the weapons used in the American Revolution.
They fired reproduction weapons at cloth, ballistics gelatin, and wood, collecting velocity data to better understand the weaponry. This also helped them to look at bullet strikes in a different way, and they proposed to re-examine the extant holes at the Jason Russell House for a closer look.
Unbelievably, they soon found more holes and damage throughout the house. All of this was meticulously measured on entry and exit sides with calipers, residual lead tests, and ballistics rods to assess the trajectory. These data led to even more discoveries in the house.


Researchers study battle damage at the Jason Russell House in January 2020. The team included representatives from the National Park Service Regional Archaeology Program, Joel Bohy, Chris Fox, and Dr. Douglas D. Scott, a foremost battlefield archaeologist..Bohy's presentation will also address some of the items in the society's collection, many of which are now on display, in its new exhibition "Menotomy – Road to Revolution," which will open to the public in April 2022.
The team measured musket balls, clapboard and door fragments, and interior shutters that came from damaged buildings in Arlington that no longer exist.
Also part of the project was the donation of services to complete a 3-D laser scan and ground-penetrating radar investigation of the lawn. . Bohy will use all of these materials to visually explain the exciting research and discoveries. "Nothing quite like this has ever been done before and people become fascinated by it," says Bohy.
About Bohy
Bohy has an enduring passion for the material culture related to military history. Growing up in nearby Concord, Bohy began collecting at an early age and developed a passion for the arms, equipment and uniforms of the common soldier from the American Revolutionary War through World War II.
He is an active member of the American Society of Arms Collectors and an instructor for advanced metal detecting for the archeologist. He is the current director of historic arms & militaria at Bruneau & Co Auctioneers.

His passion for militaria has led him to write and lecture with the Society for Historical Archaeology, Fields of Conflict archaeology conference, Colonial Williamsburg, "Weapons of War" conference, Concord Museum, and Minute Man National Historical Park. He co-authored "The Arms of Lexington and Concord" in The American Rifleman Magazine, "Colonial Era Firearm Bullet Performance: A Live Fire Experimental Study" for Archaeological Interpretation and Firearm Bullet Performance: Phase II, Live Fire Experimental Study for Archaeological Interpretation Colonial Pistol, Colonial Fowler, Colonial Rifle, and a Civil War Rifled Musket. His profile can also be seen in "The Magazine Antiques."
Tuesday, Oct. 26: WHILE YOU WERE AWAY: A TRIO

OF DRAMATIC CHANGES
Chuck Kraemer: Reimagining the Smith Museum
Sara Lundberg: New role for the Assembly Room
Robert Brazile: Geo-Thermal Climate Control for the Jason Russell House

The Arlington Historical Society is an independent nonprofit with a mission dedicated to preserving the Jason Russell House and the Society's collections, and to discovering and sharing information about Arlington's history.
---
This news announcement was published Wednesday, Sept. 29, 2021, and updated June 6.
YOUR VIEW: Opinions: Murals politics, Town Day, Medford St., AFD, ACMi, poetry, Mugar, Alewife
Your Businesses
The Arlington Chamber of Commerce announcement: 'Finance Essential for Small Business,' with…
Maxima Gift Center, 212 Mass. Ave., East Arlington. Maxima Gift Center, a fixture in Capitol Square…
Your People
Watch 'Pony Boys' on Monday, Oct. 3 (changed from Sept. 27), a New York Times' Op-Doc Tony and Jeff Whittemore head for Montreal. / 1967 family photo UPDATED Sept. 26: Spy Pond Productions of Arlington has announced that the film directed by Eric Stange has been acquired by The New York Times…
Sue and Jeff Thompson face trials, keep smiling. UPDATED Oct. 1: On July 19 it was one year since Jeff Thompson was diagnosed with ALS, and during that time his condition has worsened. But he and his wife, Sue, have learned some important lessons: Be prepared before the next thing happens so you're…
Housing Authority
Report released six months after records request. UPDATED July 28: The Chestnut Manor fire…
Hauser electrical panel. / Melanie Gilbert photo 'We're grateful to the CPA and Town Meeting.'--…
FACEBOOK BOX: To see all images, click the PHOTOS link just below