Worst Offender: Somerville's SOM01A combined sewer overflow.
UPDATED Jan. 3: This viewpoint was submitted by Precinct 13 Town Meeting member Kristin Anderson, who is monitoring the combined sewer overflows into the Alewife Brook. Supporters attended the Monday, Dec. 20, Select Board meeting, and the chair said the board would address the issue, as reported here >>
Meanwhile, consider ...
The latest Massachusetts Water Resource Authority's CSO assessment, gives Somerville's CSO a failing grade. Read an account from Save the Alewife >>
What is a CSO anyway?
Read an explainer from Save the Alewife >>
Cambridge weighs allocation of $80M in ARPA funds
On Dec. 1, Save the Alewife Brook representatives attended Cambridge's Finance Committee Meeting, which was dedicated to the discussion of the allocation of $80 million in federal American Rescue Plan Act funds.
The Finance Committee includes Cambridge Mayor Sumbul Siddiqui, Vice Mayor Alanna Mallon, Councilors Jivan Sobrinho-Wheeler, Marc C. McGovern, Patricia Nolan, Quinton Zondervan and Timothy J. Toomey.
Thanks goes out to everyone who wrote letters to their state representatives. Because of your letters, Rep. Dave Rogers reached out and recommended that we attend Cambridge's meeting to discuss allocation of $80 million in federal ARPA funds.
Here is our three-minute statement to Cambridge's Finance Committee:
Following our comments, Cambridge resident Damon Krukowski spoke in support our efforts and helped to amplify our message. And then Councillor Nolan speak in favor of Climate Change Resiliency and Environmental Justice and specifically in support of our plea to end the sewage water pollution in the Alewife Brook!
Cambridge Councillor Patricia Nolan voices support for ending the sewage pollution in the Alewife Brook: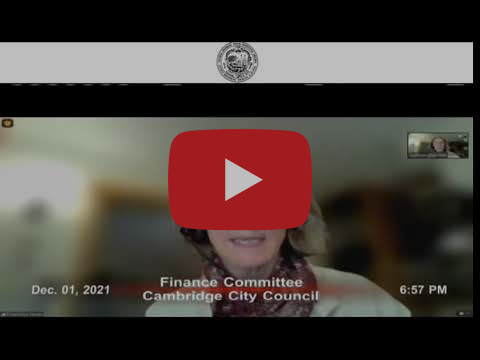 The meeting was an amazing opportunity to have our voice heard by Cambridge's most influential elected officials. This is one step towards reaching the centuries' long goal of reducing hazardous pollution in the Alewife Brook.
---
---
This viewpoint, from Save the Alewife, was published Wednesday, Dec. 8, 2021, and updated Jan. 3.