Media partner


UPDATED, June 2: Catch amazing performances by your very own friends and neighbors on one glorious day of live music galore...bring a lawn chair, your friends and family, and a healthy appetite for music. We've got a fantastic event planned, and can't wait for you all to join the fun.
Now expanded to feature a special time zone in Arlington Heights, Porchfest will rock all day long -- from noon to 2 p.m. in the Heights, and then 2 to 6 p.m. in East Arlington.
Scheduled to perform are 130-plus bands on 75 porches all over Arlington -- a musical kaleidoscope of jazz, blues, R&B, rock, Americana, acoustic and more. Find them here >>
NOTE: Organizers are watching the weather closely because brief showers may blow in early Saturday afternoon. They have the option of a rain date on Sunday, June 4. They will make an official rain date decision no later than 9 Saturday. Posting news on https://arlingtonporchfest.org, on http://acarts.org or Facebook.
Bring a lawn chair, a picnic, or your favorite walking shoes and catch incredible live music by your very own friends and neighbors. It's the perfect way to spend a Saturday - we can't wait to see you there.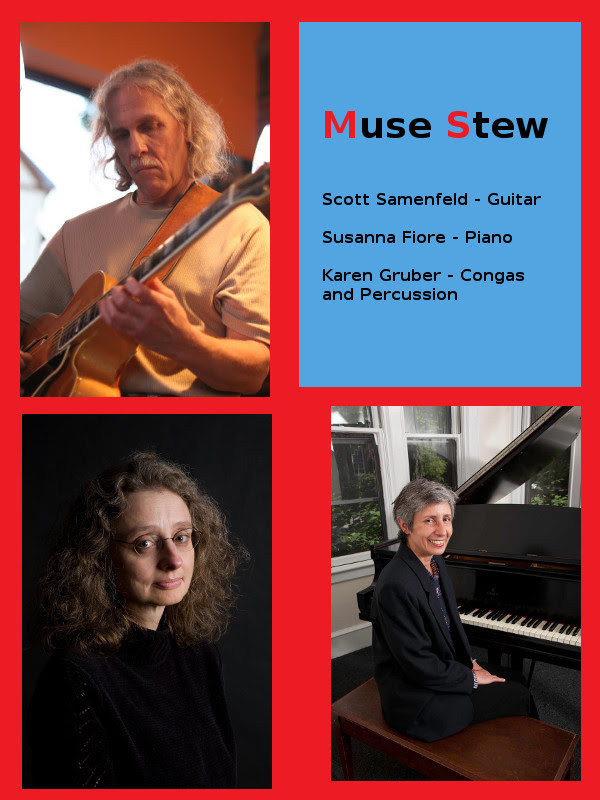 Muse Stew will be performing at Arlington Porchfest tomorrow, Sat., June 3rd, from 3-5P. We'll be in front of Trinity Church which is at 115 Mass. Ave.(East Arlington). Please come by and catch us and enjoy the entire festival!
Survey, raffle
Fill out a Porchfest survey after the event (between June 3 - 8) with your thoughts on this year's event and you will be automatically entered into our 2017 Porchfest Raffle, for the chance to win one of 14 amazing prize packages from beloved local businesses...including Commune Kitchen, Lakota Bakery, Acitron, The Capitol Theatre and more! Click here for a complete list of raffle prize packages.
FOR MORE INFO: www.arlingtonporchfest.org
Porchfest to target Heights
We're expanding by popular demand to include an Arlington Heights zone in addition to East Arlington. We'll have music in the Heights from 12:00-2:00pm, followed by music in East Arlington 2:00-6:00pm. At the same time, the Arlington Greek Festival will be in full swing at Saint Athanasius The Great Greek Orthodox Church in the Heights. Our expansion was made possible thanks to the help of our new Arlington Heights volunteer team and cooperation from the Arlington Greek Festival. We are excited to try this out!
Website helps performers and hosts to find a match
Just like last year, registrants can find their own band/porch match or have the event organizers arrange their schedule. We are requiring all hosts and performers to register separately please. If you are performing on your own porch, please have someone else be contact person to register your band, and/or have someone who is not performing register to be your designated host.
Our updated site is helping bands and performers to find their own matches. You can peruse a directory of registrants to find potential matches, you can private message other registrants (from their user profile), and you can edit your registration information (from your user profile) anytime before April 21 to provide details about who is performing where and when.
See below for what happened last June.
---
ONE EXPERIENCE: Facts & opinion: A slice of what I heard; how about you?
---
Protected on the porch, Gin Daisy performs at 2016 Porchfest.
Rain drops began to tap my windshield as I drove on Broadway near Together in Motion, and I saw musicians taking chairs indoors just before 1 p.m. Saturday, June 11. Uh-oh. Would Arlington's first Porchfest be rained out?
Nope. You couldn't douse the spirits of more than 100 musicians throughout East Arlington in a free community event fully supported by the Arlington Center for the Arts.
Indoors, the Elderly Brothers (the local version), performing what one member said is its third swan song, slid from Dylan's "Knockin' on Heaven's Door" to Buffett's "Margaritaville" to the Stones' "Dead Flowers." On a table next to them were an assortment of instruments, and the audience was invited to use them.
Showers turned heavy and then let up by 2:30 p.m. Leaden skies were the only threat after that, as hundreds of game participants enjoyed the wide variety of musical messages in venues that were mostly porches but expanded the definition of what community stages can be.
The cool temperatures likely had a benefit: Those who did not want to hear strident rock could keep their windows closed.
That may have included the Cleveland Street neighbors of the 27 Club Band, who agreed to an audience request, "Free Bird," originally by Lynyrd Skynyrd. Rock licks chased the rain drops.
Down at 30 Cleveland, a young boy scampered among those under a bevy of umbrellas, handing out cards for Gin Daisy, twanging out Bluegrass harmonies on the porch.
Around the corner, on the wide porch at Mass. Ave. and Trowbridge, Jamie Martin fought the rain for passersby, strumming out Simon & Garfunkel's "The Boxer." Relaxing with her were a dog, a woman and a little girl at play.
The audience: anyone who walked or biked by, reminding all that Porchfest was an event friendly to those on foot and on two wheels.
At 30 Marathon, the Undercovers, led by Stanley Pollock of Arlington, drew from their classic-rock collection with "Walking the Dog" (Rufus Thomas) and "Love option No. 9," the Leiber and Stoller hit recorded first by the Coasters in 1959.
As I walked away, I could hear: "Don't want your looooove, any more ...." It was "Cathy's Clown." It seemed the rain had stopped, and I had finally heard a sing by the Everly Brothers. It sounded young again.
Over at the Center for the Arts, Michael Mahin and Sarah Buyer were making the best of the day as The Other Door gave tribute to Pink Floyd's past.
The organization of the entire event was marvelous, given all of the circumstances, and reflected an energy I hope Arlington does not lose, as the Center seeks a new home -- and raises money to support that effort.
Leave your email and have a chance at $1,250 raffle prize. Your feedback helps ACA demonstrate the event's impact to future sponsors.
---
This announcement was published Thursday, Oct. 20, 2016, and updated June 2, 2017.
Your Businesses
Derek Fleming smiles in 2019. UPDATED Aug. 8: Eleven and a half months after fire closed Thrive…
UPDATED Aug. 5: 13Forest Gallery, which reopened at 167A Mass. Ave. on May 21 after having been…
Your People
Julian Carpenter, Berklee drummer. / Liam Garcia photo Musician Julian Carpenter, a 2019 Arlington High School grad, aims to feel the beat of the big time as he is among the performers at the Lollapalooza Festival, four days of sounds in Chicago that runs from rap to electro pop and indie to…
Sue and Jeff Thompson face trials, keep smiling. On July 19 it was one year since Jeff Thompson was diagnosed with ALS, and during that time his condition has worsened, but he and his wife, Sue, have learned some important lessons: Be prepared before the next thing happens so you're ready; live…
Housing Authority
Hauser electrical panel. / Melanie Gilbert photo 'We're grateful to the CPA and Town Meeting.'--…
Atwood House on May 23, 2022. / Melanie Gilbert photo 'I'm reaching out to the state.'-- Jack Nagle…
FACEBOOK BOX: To see all images, click the PHOTOS link just below