Media partner


"Courageous Colors" is the Arlington Center for the Arts' annual members' show. It is open to all media, both 2D and 3D, that explore hue, chroma and value in expressive or inventive ways.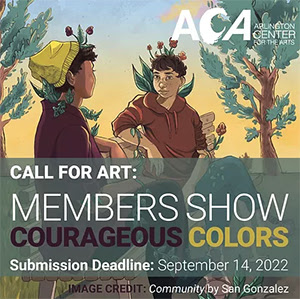 The deadline to submit is Wednesday, Sept. 14. Read more details here >>
Whether your color enhances the energy of your subject, alters the message of your work, or illuminates possibilities, this is the show for you.
Accepting applications: Plein air artists for Town Day
Get ready for the first Plein Air Paint Festival in Arlington, to be held during Town Day within the Winfield Robbins Memorial Garden on Sept. 17, from 9:30 to 3. Plein air painting is the act of painting outdoors. Aug. 15 is the deadline to apply.
All artists are welcome to apply to participate in one of two self-designated categories: Professional or Amateur Artist (art students). Prizes will go the the winners: $500 in cash will be awarded to a professional artist, $250 to an amateur winner and a gift certificate to the Arlington's Choice Winner.
Artists must be self-sufficient by bringing the surface previously approved in the application — see below -- and all the necessary tools to paint (easel, canvas or paper, brushes, rugs, a chair and containers for water).
Only water media will be accepted (watercolors, acrylic, pencils and pastels). Water will be available at the ArtLinks tent.
There will be two-two-hour shifts for painting. At the end of the shifts, artists will clean up and bring their finished pieces to the ArtLinks tent for display, judging and public presale.
The application deadline is 8 p.m. Aug. 15. Accepted artists will be notified by Aug. 25.
Applications will be available next week to all ArtLinks members, the New England Watercolor Society, the High School Art Department, and neighboring towns. If you are not a member of these groups, email This email address is being protected from spambots. You need JavaScript enabled to view it. to receive an application and get further details.
---
This news announcement was published Thursday, July 14, 2022, and updated July 30, 2022. Providing the information was Analiese Ruggles of the ACA and the ACAC newsletter.
Your Businesses
Derek Fleming smiles in 2019. UPDATED Aug. 8: Eleven and a half months after fire closed Thrive…
Arlington-based American Alarm and Communications has acquired Monitor Controls of Wallingford,…
Your People
McHugh UPDATED Aug. 4: Susan Rachel McHugh, a cofounder of the Arlington Human Rights Commission in 1993 and its first chairwoman, died in June after a brief illness at age 66. Those who worked with her remembered her immediately after her June 20 passing. The Boston Globe published her obituary…
Julian Carpenter, Berklee drummer. / Liam Garcia photo Musician Julian Carpenter, a 2019 Arlington High School grad, aims to feel the beat of the big time as he is among the performers at the Lollapalooza Festival, four days of sounds in Chicago that runs from rap to electro pop and indie to…
Housing Authority
Hauser electrical panel. / Melanie Gilbert photo 'We're grateful to the CPA and Town Meeting.'--…
Atwood House on May 23, 2022. / Melanie Gilbert photo 'I'm reaching out to the state.'-- Jack Nagle…
FACEBOOK BOX: To see all images, click the PHOTOS link just below